Rescue Ready
Lifeguards Need to Always be Rescue Ready
When a lifeguard doesn't have the right tools they can't be rescue ready. And when a lifeguard isn't rescue ready, the safety of everyone around them can be jeopardized. Being rescue ready, though, requires more than just a swim suit and the right tools. In this Lifeguard Commandment video we'll discuss what every lifeguard needs to be rescue ready.
Key Elements to Being Rescue Ready
Have the Right Mindset
Lifeguarding requires incredible amounts of mental strength, which makes it so important for a guard to start each shift with the right mindset. When a lifeguard is confident in their rescue skills and the lessons learned in in-service trainings, they can approach water surveillance with the right frame of mind. A lifeguard must also be confident that they are prepared to activate the Emergency Action Plan, as well as knowing their role during an emergency situation.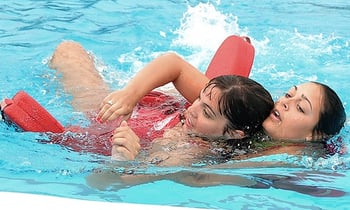 Scanning the water is tedious. Making a rescue is stressful. Lifeguarding is physically demanding. For all of these reasons, you must always be in the right mindset.
Be Rested and Hydrated
No matter how good of a lifeguard someone might be, they can't be rescue ready if they can't keep their eyes open. Because lifeguarding is so physically and mentally demanding, it is extremely important that all lifeguards are hydrated, rested, and energized. Lifeguards should be given every opportunity to hydrate during their shifts, and making healthy snacks available during break times is recommended.
Be Dressed to Rescue
Uniforms are extremely important in many careers that operate around life-or-death situations. Firefighters wear clothes that can withstand high temperatures. Soldiers wear clothes that provide camouflage or protection from projectiles. Lifeguards, too, are expected to wear clothes that perform a very specific purpose. On-duty lifeguards should always wear a swim suit or some other type of clothing designed specifically for water-based activity. Sweat pants, t-shirts, and shoes should not be worn during a lifeguarding shift.
Have the Right Tools Ready to Use
Once a lifeguard is mentally prepared, hydrated, and dressed to rescue, they need to be sure they have all of the right tools. Simply having the right tools for lifeguarding isn't enough though; guards need to know how to use all of the tools at their disposal, and all of the tools must be in good working condition and easily accessible.
Take a look at our Aquatics Best Practices Guide to learn all about the rescue equipment a lifeguard needs to have.