20 Second Rescue
Lifeguards should recognize, respond, and rescue in less than 20 seconds.
A swimmer can lose consciousness in as little as 30 seconds, and as long as a swimmer is unconscious, there are no guarantees regarding their safety. The best way to keep all swimmers safe is to recognize a distressed swimmer immediately, then quickly and safely respond, and then, finally, perform the necessary water rescue technique without hesitation.
This Lifeguard Commandment video addresses these three very important components.
Recognizing a Distressed Swimmer
An experienced lifeguard knows that distressed swimmers often look and sound nothing like the images we see on TV. Splashing and yelling are extremely helpful indicators for a lifeguard, unfortunately, many swimmers in need of help often slip quickly and quietly underwater. Lifeguards can easily miss a potential drowning victim anytime they are not actively surveying the water from bottom to top. And even when a lifeguard is providing quality aquatic surveillance, it may be difficult to see all areas of a pool because of strong glare, cloudy pool water, overcrowding, or even a slight breeze rippling over the surface of the water.
Responding to a Distressed Swimmer
Responding to a distressed swimmer should take up the majority of a lifeguard's 20 seconds. Once a guard has identified that a swimmer is in need of assistance it can be easy to forget some very importance steps along the way.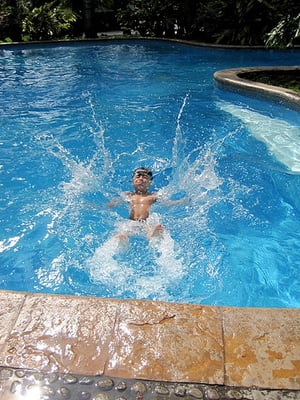 For example, a lifeguard's first instinct is often to immediately enter the water and rush to the distressed swimmer. Before doing any of this a lifeguard must activate the Emergency Action Plan (EAP) to notify other pool staff that their is a problem. A successful rescue is rarely a one-lifeguard job.
It is also important to approach a distressed swimmer, especially an active drowning victim, with extreme caution. An active drowning victim will do anything they can to keep their head above water, so it is important that you approach carefully. If you rush to provide assistance they may attempt to push you under water in an effort to stay alive.
Always approach a distressed swimmer – active or passive – with extreme caution.
Rescuing a Distressed Swimmer
Once a lifeguard has recognized and responded to a distressed swimmer, it is extremely important that they perform the appropriate rescue technique. If there is any reason to believe that a swimmer may have sustained a head, neck, or back injury the responding lifeguard should perform the applicable spinal rescue.
As was mentioned above, it is important that a responding lifeguard use extreme caution when responding to a victim. A lifeguard should always put their own safety above anyone else's. After all, if a distressed swimmer unintentionally puts a lifeguard in harm's way both may need to be rescued.