West Bend unveils the
Spirit of the Silver Lining® Award!
Recipients of the 2017 Spirit of the Silver Lining Award include: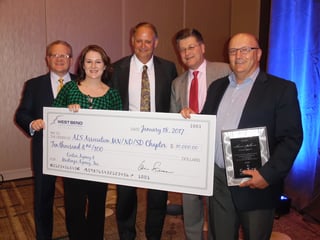 Shawn Sullivan, Mackenzie Agency, Inc. – St. Peter, MN and Jennifer Kolquist, Cartier Agency, Inc. – Duluth, MN: ALS Association MN/ND/SD Chapter
Amyotrophic lateral sclerosis, more commonly known as ALS or Lou Gehrig's disease, is a progressive neurodegenerative disease that affects nerve cells in the brain and spinal cord. As motor neurons die, a person with ALS loses the ability to control muscle movement, resulting in paralysis and ultimately death. Until there's a cure, the mission of the ALS Association is to empower people with ALS and their families to live fuller lives by providing them with compassionate care and support, while contributing to the fight to treat and cure ALS through global research and advocacy.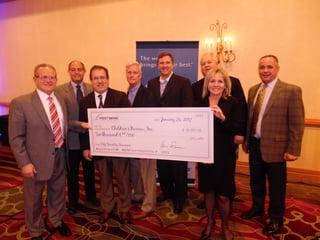 Chris Phillips, City Securities Insurance, LLC – Indianapolis, IN: Children's Bureau, Inc.
The Children's Bureau provides a full array of community-based prevention and intervention services that include increasing the availability, affordability, and quality of childcare; offering emergency, temporary shelter for endangered children, runaway, and homeless youth in Central Indiana; child abuse prevention programs; and reliable, dedicated, nurturing foster care for children who are temporarily removed from their biological families. Working in partnership with the Department of Child Services and other community organizations statewide, they provide child and family services in 47 counties throughout Indiana to more than 46,000 children annually.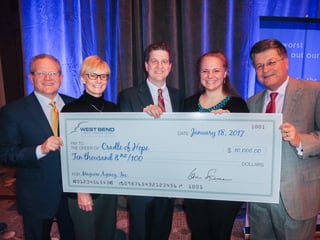 Matt Clysdale, Maguire Agency – Roseville, MN: Cradle of Hope
Anne Russell Dickinson founded Cradle of Hope in 1973 when she used a $5,000 inheritance to help five women who were in serious need due to unplanned pregnancies. Since then, the organization has allocated over $5 million to more than 25,000 Minnesota women who faced challenging pregnancies or crises related to the births of their babies. The organization encourages life by providing financial aid, as well as support and understanding, to women and babies in crisis.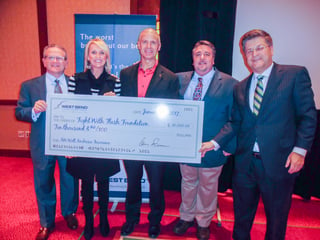 Craig Schroeder, AW Welt Ambrsico Insurance, Inc. – Iowa City, IA: Fight With Flash Foundation
Craig and Stacy Schroeder, along with close family friends, established the Fight With Flash Foundation to honor the life and spirit of their son, Austin "Flash" Schroeder after he passed away in 2015. When he was just 14, Austin was diagnosed with a form of T-cell lymphoma, a highly aggressive cancer. The treatment wasn't smooth, and he often faced more setbacks than gains. Through it all, however, Austin continued to smile, to fight, and to hope. The foundation raises funds for research, and serves children, adolescents, young adults, and their families, when faced with a cancer diagnosis, by helping with spiritual, financial, or physical needs.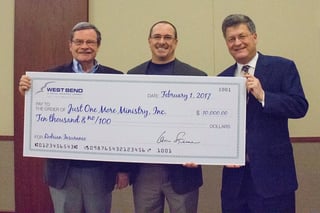 D.J. Rodrian, Rodrian & Associates, Inc. – Brookfield, WI: Just One More Ministry
Just One More Ministry rescues and repackages prepared food, fresh produce, and bakery from area suppliers and redistributes it to 13 Greater Milwaukee inner city churches that support pantries and community meal ministry programs. In 2008, founder and executive director Chris Capper began visiting local grocery stores late at night to pick up leftover bread to share with an area Meal Outreach Ministry. What started with a single box of bread on the first night is now a program that annually rescues more than 25 tons of food and provides 125,000 meals.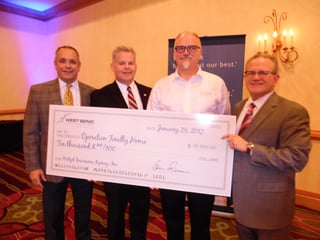 Byron Kauffman, Wetzel Insurance Agency, Inc. – North Manchester, IN: Operation FINALLY HOME
A national organization that partners with sponsors and volunteers across the county, Operation FINALLY HOME provides custom-built, mortgage-free homes to America's military heroes and the families of the fallen. They are currently working with the Builders Association of Kosciusko Fulton Counties to build their first home in Indiana; a 2,300 square foot home in a family-friendly neighborhood will be gifted to a worthy veteran later this year.