It's that time of year when snow, ice, and wind make driving more treacherous. Many accidents happen during the winter months when road conditions deteriorate and drivers are dealing with hazardous weather. While there are times it may be possible to stay off the road, if you have to drive in winter weather, here are a few simple tips that can help keep you safe.
A Winter-Ready Vehicle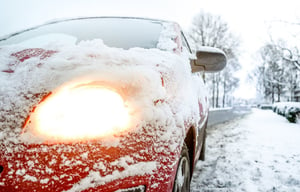 The first step toward a safe winter trip is making sure your vehicle is ready. Regular maintenance is important year-round but especially in winter to ensure safe operation. Make sure the vehicle has enough gas and the wipers are working well. It's important to clear snow off the entire vehicle, including the roof. Large chunks of snow and ice can be extremely dangerous if they fly off a roof into oncoming traffic. One of our loss prevention representatives experienced that just last year! It's also a good idea to keep an emergency kit in your vehicle with blankets, flashlights, and other emergency supplies.
Winter Driving
The best thing to do while driving on slippery roads is to simply slow down. Don't accelerate quickly or brake suddenly if you can avoid it. Leave with plenty of extra time so you can go as slow as you need to. It's important to also leave plenty of space between you and the vehicle in front of you so you have more time to stop. Don't use cruise control while driving on slippery roads.
Winter Driving Resources
These resources have even more tips for staying safe on the roads this winter.
National Safety Council-Be Prepared for Winter Driving