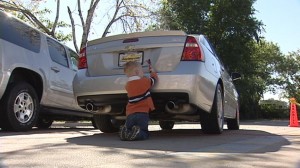 The National Highway Safety Traffic Administration (NHSTA) has plans to announce a significant new piece of legislation which would require automobile manufacturers to install rear-facing cameras in all new passenger vehicles. According to The New York Times, the goal is to have this requirement in place by 2014.
I can speak from experience that rearview cameras are incredibly helpful for preventing minor parking lot fender benders. And, believe me, you'll never want to
…continue reading the rest of Cameras Required in all New Vehicles?