April is National Child Abuse Prevention month. Since 1983, this month has been a time for our country to tackle this extremely challenging issue. Community organizations and parents collaborate to develop policies and strategies to strengthen families and keep children safe.
That's why it's especially disheartening to see this disturbing news story making headlines. A college student, majoring in education, was arrested and later admitted to sexually abusing multiple children.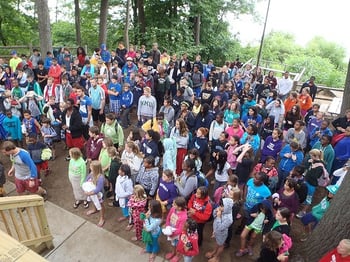 He was a student teacher at a local elementary school, employee at the campus childcare center, and camp counselor at the local YMCA for four years. He seemed like an ideal employee. His resumé was impeccable and he had a clean background check. Obviously, he was not an ideal employee and the number of potential victims in a case like this is overwhelming.
We know child abuse is still too common. We know that abuse and neglect will leave scars on children that never go away. We know that abused children are more likely to abuse their own children in the future. So what can we do about it?
Prohibit One-on-One Interactions
Everyone in the community has a role in preventing child abuse. Community organizations and youth programs must develop strong policies to ensure the safety of the children they serve. It's impossible to know what someone is capable of and no organization is immune to the possibility of hiring a child abuser. However, by implementing and enforcing policies that prohibit adult employees from being alone with children, even if a predator is hired like the story above, there will be no opportunity for abuse to occur.
Empower Families
Organizations also have a role in supporting parents. Parents with strong connections and resources in their community are less likely to abuse their children. The Children's Bureau, part of the US Department of Health and Human Services, published a calendar for April with ideas of how programs can support parents in their community.
Brave Individuals Make the Difference
On an individual level, we are all responsible for the children in our communities. By building relationships and connections with families in our neighborhoods, we can recognize if a family needs help. By getting involved in community programs, we can notice if there is something off about a coach or teacher's relationship with a child and take action. We cannot assume someone else will take care of it or that it is someone else's problem. All children deserve to feel loved and secure and everyone is better off when families are strong and children are safe. We all have a duty to protect the children in our communities who desperately need a voice.