At this point you've likely heard about the measles outbreak sweeping through the country. Originating at Disneyland in Orange County, California, the outbreak has since spread to 17 states and revived a national debate about vaccines. We saw a huge spike in the number of measles cases in 2014, and, already in the first three months of 2015, there have been more cases reported than all of 2012.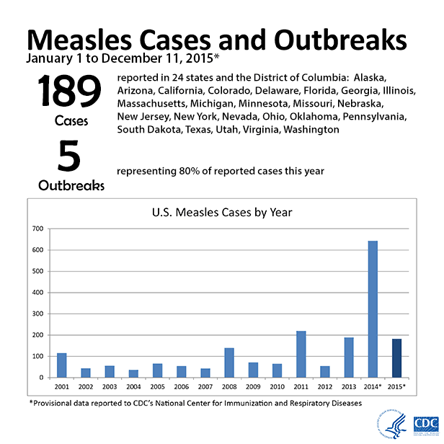 Centers and Schools Already Taking Action
Childcare centers and schools have been scrambling to deal with the implications of this outbreak. KinderCare, a large corporate childcare provider, has now mandated their employees provide proof they are current on their vaccinations. This policy was implemented after five infants that were too young for the vaccine were diagnosed with measles at a KinderCare center.
In another approach, a high school in California excluded unvaccinated students for two weeks after another student at the school was diagnosed with measles. School administrators said the policy was to protect the unvaccinated students from contracting the highly contagious virus.
Legal Implications of Excluding Unvaccinated Children
The stress of dealing with a measles outbreak is something all childcare providers want to avoid. The simplest way to avoid this would be to enroll only children who are current with their vaccines. While this may seem like an easy solution, excluding children due only to their vaccine status could create serious legal and public relations problems.
Any provider attempting to implement a "vaccinated children only" policy could be vulnerable to potential legal action. Every state allows vaccine exemptions for medical issues, all except two allow religious exemptions, and 19 allow for religious or philosophical exemptions. The way the law is worded in Wisconsin, for example, requires parents to provide proof of vaccines or provide a valid waiver. A child with a waiver on file and no vaccinations is considered compliant with the law.
There is clear potential for a family to claim discrimination if their child is denied enrollment due to their vaccine choices, especially if their exemption is based on religious beliefs or a disability. Religious beliefs and disability status are both protected classes under the law. Protected classes are characteristics that are illegal to discriminate against, and in addition to religion and disability status, include characteristics such as race, religion, or age.
Excluding Sick Children is Legal
While excluding children based on their vaccine status is legally questionable, childcare providers can exclude children from care if they are sick with an infectious disease. State licensing rules vary, but most contain guidelines for excluding children with a fever, rash, or diagnosed contagious illness for a set number of days. Every childcare provider should have a policy that explains the criteria for exclusion and this must be enforced consistently. State licensors should be able to help with any questions regarding exclusion policies.
Preventing Measles Outbreaks
Measles is a scary prospect for any childcare provider. While there could be public relations consequences from an outbreak, the consequences of a discrimination lawsuit could be much worse financially. By developing policies with licensors to exclude sick kids and consistently cleaning toys throughout the center, childcare providers can limit the risk of an infectious disease outbreak.
What is Your Center's Policy?
We'd love to hear from you. What is your childcare center's policy on vaccinations? Do you think childcare centers and in-home daycares should be allowed to restrict enrollment based on vaccination status? Why or why not?