The NFL's Tampa Bay Buccaneers have to worry about more than their 0-5 start. So far this season, three Buccaneers players have contracted methicillin-resistant Staphylococcus aureus, a deadly infection more commonly referred to as MRSA (pronounced mur-sa). MRSA is a skin infection that spreads either after direct contact with an infected wound or after contact with an object that has touched an infected wound.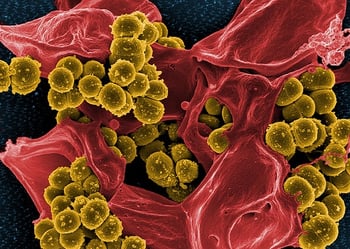 Tampa Bay's kicker, Lawrence Tynes, filed a grievance against the team after it was revealed he'd miss the entire season earlier in the year.
Another player, guard Carl Nicks, was forced to undergo surgery yesterday to help rid him of the MRSA infection. The seriousness of these players' infections demonstrates how dangerous MRSA can be and why taking steps to prevent outbreaks are so important.
If it can happen to an NFL team, it can happen at your gym.
The fact that a NFL team's world-class facility could harbor MRSA demonstrates just how easy it is to transmit. The Buccaneers have access to the most cutting edge information and technology and have numerous cleaning and maintenance personnel, yet MRSA was still able enter the facility and be transmitted to three athletes.
Being aware of MRSA, and how it spreads, is extremely important for all organizations, but is of particular importance to any organization where athletic activity occurs. After all, the Center for Disease Control and Prevention lists athletic facilities as one of the most common places for MRSA outbreaks to originate! Learn more about what can be done to better protect fitness centers from a MRSA outbreak.