Did you know that Dr. Henry Heimlich first tested his technique to dislodge stuck food on a dog? He tied a string around a piece of meat and forced it into the airway of an anesthetized dog. And did you know that Dr. Heimlich is still alive!? I hadn't the slightest idea. I also wasn't aware that there was so much controversy surrounding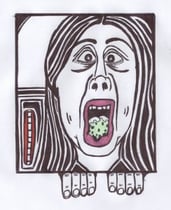 a man that's saved thousands of lives across the world.
If you enjoyed the story behind Resusci Anne, the CPR training doll, I'm positive you'll enjoy this 25-minute podcast from Radio Lab. This story really has it all: science, drama, mystery... even a moment or two that might cause you to choke up a bit - no pun intended.
I better stop before I start giving away too many details. Enjoy.

More information available on RadioLab.org