Imagine you're shopping for new tires for your car. You have the choice between budget tires that cost much less, but have been reported to underperform in rainy or snowy conditions, and tires that are relatively more expensive, but have great safety ratings. If you live in a place where it rains or snows often, you might find it worthwhile to pay a little more - like this guy did - to make sure your tires will work when you need them the most. Shopping for child care insurance is no different. No one wants to feel like they're paying too much, but in the event of a claim, knowing that there will be the right coverage to protect the kids in your care and your business is important.
Chel Buttchen, the Childcare Underwriting Supervisor at West Bend, says there is a wide range in cost for a child care insurance policy, but the large majority of West Bend customers with small in-home daycares pay between $250-$500 for business insurance each year.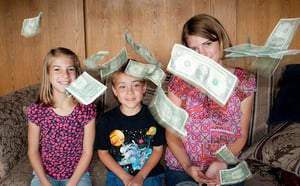 Larger commercial child care centers that lease space will pay closer to $2,000 a year for business insurance coverage. These estimates include the cost of optional abuse and molestation insurance coverage. It's important to note that these numbers are highly variable, however, because insurance premiums are dictated by the exposures a center faces. For example, a child care center that arranges rides before and after school, has a play area with a wading pool, has a dog on premises, or has extended hours of operation will be priced differently than a center without these exposures. The number of children a center is licensed to care for is also another important consideration when determining insurance pricing.
If you're trying to keep premiums lower, you can consider carrying a higher deductible. It's important, however, to not carry a deductible you're unable to afford if you have a claim. A knowledgeable independent insurance agent who understands your business will be able to help determine what deductible is right for you and which coverages and exclusions you should be aware of. In addition to your agent, the checklist provided at the bottom of this resource by the National Network for Child Care can help you make sure you're asking the right questions to get you the coverage you'll need.
Child Care Insurance Expert: Debe Marofsky
Debe Marofsky explains the importance of working with the right insurance agent and child care insurance company to make sure you have the coverage you need.
[embed width=540]http://www.youtube.com/watch?v=9vCdzdzfEVc[/embed]
If you're an in-home daycare or commercial childcare provider interested in learning more about ways a childcare insurance expert like Debe can help protect your center, look for an independent agent using the West Bend Agency Locator. A West Bend independent agent can help ensure your center is fully protected with all of the necessary coverages, including Abuse and Molestation Insurance Coverage.