West Bend works with the very best independent agents to provide comprehensive liability insurance for child care centers. Debe Marofsky from Affiliated Insurance in Plymouth, Minnesota is one such agent. Debe has been working with in-home daycares and child care centers for more than 20 years.
In that time, she's worked with hundreds of child care providers, and she prides herself on only working with centers that she would send her own children to. In this short video clip she discusses the three major red flags she looks for when walking through a new center. If you're a parent looking at a new daycare, or have concerns about the center your child is already enrolled in, these tips could make a world of difference.
Daycare Dangers Safety Guide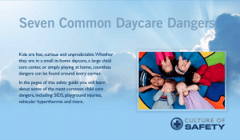 If you enjoyed hearing Debe's recommendations about some basic red flags in child care, we think you'll also find our Daycare Dangers Safety Guide extremely helpful.
This free resource has 26 pages of information designed for both parents and child care providers. West Bend loss prevention representatives reviewed liability insurance claims from more than 7,000 child care centers to identify some of the most common and most devastating injuries we see. Get your copy of the Daycare Dangers Safety Guide today!