Is it okay to have different rules for different parents in your child care program? It depends.
In general, you can set your own rules and run your business the way you want, without fear that you are breaking the law if you treat parents differently.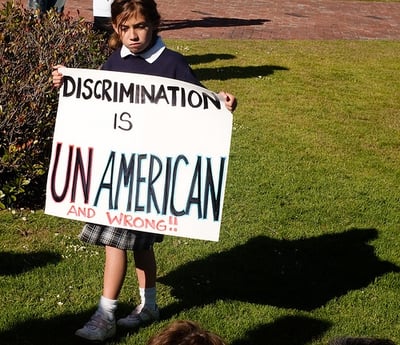 However, there are some types of discrimination that are illegal.
It is illegal to discriminate against children or parents because of race, color, gender, religion, age, disability, or national origin. Your state or local government may have added additional prohibitions against discrimination based on marital status, sexual orientation, or some other class. Check with your state attorney general's office or state Department of Human Rights for information about state laws.
Those whom you cannot discriminate against are called a "protected class." But just because a person is in a protected class does not mean that you can't discriminate against them for other reasons. You can discriminate against such a person as long as the reason for doing so is not because of their protected class status.
In other words, you can terminate a parent who is a Catholic because she violates your contract by not paying on time, but not because she is a Catholic. You can conduct religious training with the children in your program, but can't exclude someone from your program because of their religion. You can prevent someone from enrolling in your program because the family is from out of state, but you can't exclude someone because they are from Mexico.
Test Your Knowledge
Can you tell a parent in your program you will no longer care for her child because the parent is rude to you?
Can you give one parent a discount on rates, but not the other parents?
Can you require the newest parent to your program to pick up her child at 5pm when all other parents pick up their children at 6pm?
The answer to all of the above questions is "yes."
Just because discrimination may not be illegal doesn't mean I recommend that you set rules that seem arbitrary or unfair. You could charge parents a higher fee if they worked for a company you dislike, but I don't think this is a good idea! When you are arbitrary or unfair, for reasons that have little to do with your program's mission to care for children, parents will react negatively and your program will suffer.
The principle of fairness is important to establish and maintain in your program. Building trust with parents is an important goal. If you are going to treat parents differently, there should be a good reason for it. You may want to offer a short-term discount for new preschool enrollees to attract new business. You may need to require an earlier pick up time to help reduce staff costs.
In addition, there are times when being consistent may not always be fair. You don't want your rules to get in the way of your "family-friendly" philosophy. Your program can bend its rules when you think it's in the best interests of the children and their families. Try to be consistent in how you bend your rules, so as not to be accused of unfair discrimination (be consistently flexible!).
In other words, if you are going to allow one parent to be late in paying you because of "special circumstances" (mother in hospital or father lost his job) you should treat other parents in the same situation in the same way. Don't write down how you will handle "special circumstances" because it's likely that no two situations will be exactly the same.
In summary, you can reduce the risks of a parent complaint or lawsuit if your program avoids illegal discrimination and is consistent in how it discriminates legally.

About Tom Copeland
Tom Copeland is a licensed attorney in St. Paul, Minnesota who writes books, gives workshops and advocates for the business of child care. For additional information on privacy and other legal issues facing child care programs, visit his blog or email him at tomcopeland@live.com.
Sign up for the Culture of Safety Child Safety Bulletin if you'd like to get email updates about future articles just like this one.