The American Red Cross just released a new smartphone app that promises to prepare you for dangerous or life-threatening situations. The app covers a huge array of topics ranging from bee stings to hypothermia. I decided to take the app for a test drive so I could share my thoughts with all of you.
In short, the Red Cross executed this huge undertaking perfectly. I can't think of a single person that couldn't benefit from at least a few of the safety tips within the app.
Price and Availability
Perhaps the best part of the Red Cross First-Aid app is that it's completely free, and available right now for both Apple and Android devices. As long as your smartphone has ~25 MB of free disk space, there isn't a good reason to not download this. All of the content is installed on your device, which means all of the safety information is available to you as long as your smartphone has battery life... even if you have absolutely no cellular connectivity.
Learn, Prepare, Emergency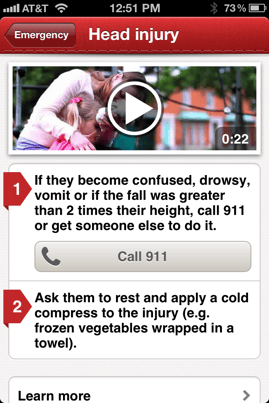 The app is broken into three major categories - Learn, Prepare, and Emergency. The Learn tab includes 19 different injury categories like bleeding, diabetic emergency and meningitis. Under each category you'll get the most common signs and symptoms for that injury as well as treatment options. In some cases you'll even get a short video clip that demonstrates proper treatment or symptom identification techniques. The information is laid out well, and because the information is coming from the Red Cross, you know you can trust its validity.
The Prepare tab switches focus from general first-aid to natural disasters and emergency situations (e.g., power outages, chemical emergencies, etc.). Many of the categories in the Prepare tab include interactive checklists that can be used to ensure you've covered all of your bases. There are some really helpful tips in here, even for the most prepared person. For example, did you know that during a power outage a full freezer will keep temperature for about 48 hours if the door is kept closed?
The Emergency tab is what makes this app so valuable. This tab incudes many of the same injury categories found under the Learn tab, but gives you step-by-step directions for making the most appropriate first-aid decision. Most of the categories explain when an injury is too serious for simple first aid and includes a button that will automatically dial 911 if the situation warrants it.
Testing and Achievements
Think you know first-aid and emergency preparedness basics? Prove it! The Red Cross app also includes a really well done testing module that ensures you'll be fully prepared when things go wrong. Did you know you can use soda or orange juice to cool a burn? I didn't... and I've written a lot of material about how to treat a burn.
After you successfully answer all of the test questions you'll receive an Achievement badge that is displayed proudly under the Test tab. You can even choose to share your achievement online with your friends. Here's us boasting a bit on Twitter:
I've just unlocked the Bleeding badge on the Red Cross First Aid app! bit.ly/IYsNjs

— West Bend Safety (@Safety_WestBend) June 14, 2012
Conclusion
If it isn't already clear... I really think you need to download this app. You never know when it'll come in handy. You might need it if your uncle collapses at a family barbecue, or if your friend sprains their ankle in the woods, or if your community is experiencing an extreme drought. Don't wait to download this until you're desperate for good first-aid advice... download it right away. Trust me; you'll be happy you did.