I've called Duluth, Minnesota "home" for the last two years. In that time I've experienced a burst water pipe, fallen tree branches and a lot of snow. In 1994, I made it through the 6.7 magnitude earthquake in Northridge, California, despite living just a few miles from the epicenter. In 2010, I witnessed first-hand the force of the floods that devastated Nashville, Tennessee and dumped more than five feet of water on my mom's home. And for the last four years I've worked for an insurance company that's helped our customers through some of the most severe weather events the Midwest has ever seen.
You'd think I would have been prepared for the flash floods that hit my community less than 24 hours ago. I wasn't, and a lot of my fellow Duluthians weren't either.
I can't speak for everyone here, but I know I learned two very valuable lessons.
Lesson #1 - You Can't Protect Yourself from Everything
Even though my wife and I bought our home two years ago, I still vividly remember joking with our real estate agent about purchasing flood insurance. Duluth sits on an enormous hill with an elevation change of more than 800 feet, so the idea that it would ever flood was laughable. If it ever rained hard enough to cause flood-like conditions, I thought, all of the water would simply move down the hill into the lake. Crisis averted.
It turns out my tongue-in-cheek comment wasn't actually too far off from the realities of living here on the Iron Range. FEMA released numbers yesterday announcing that of the 86,000 residents of Duluth, there were only 111 in-force flood insurance policies. Yes, you read that correctly... one hundred and eleven. As in 0.001% of Duluthians. In Duluth, you were more likely to have 11 fingers or toes than you were to have a flood insurance policy.
And trust me, a lot of people and businesses are going to wish they had flood insurance. Take, for example, every single person that lives on this street:

Here's the problem though, no one could have foreseen all of the events that led up to so much of Duluth experiencing flood damage like this. From June 17th through June 19th, more than 7.25" of rain fell in Duluth - the wettest two-day period on record. When you live in a city that has never experienced flooding on this scale, how do you justify spending hundreds (if not thousands) of dollars on flood insurance every single year? The answer is... you can't.
Just because you can insure something, doesn't mean you should. Sometimes you just have to get lucky.
Lesson #2 - Don't Get Brave (or Curious)
There was plenty of news coverage on the storm, and Twitter and Facebook were inundated with images of the destruction, but based off of the view I had from my home, I just couldn't believe this was all happening around me. From our living room it didn't really appear to be anything more than a really strong storm. There was absolutely no visible indication that things were literally crumbling all around us.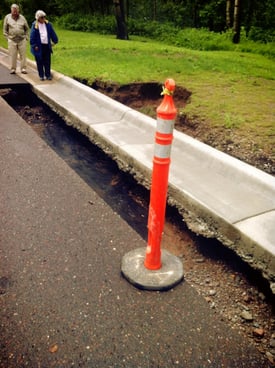 Despite official police warnings asking all citizens to stay in their homes, I was tempted to drive around on Wednesday morning to get a first-hand glimpse of what the reporters had been describing.
I'm glad I didn't.
I took this photo yesterday evening after the storm had ended. This washed away section of road is only two blocks from my home. If I had gone out driving during the storm I almost definitely would have driven right over this. With water gushing through the streets and wiper blades going full speed, I doubt I would have realized that the road was gone.
Not only would I have caused major damage to my vehicle, but I also would have put myself and rescue crews in harms way. Honestly, none of this had really crossed my mind when I decided to just stay home. Had I not been so concerned about getting drenched on the way out to my car, I might have gone out.
Never again. I learned my lesson. The next time I hear tornado sirens I won't be heading out onto my porch to check and see what all the fuss is about. And the next time the police or weather forecasters are telling people to stay inside, I'm going to listen. I hope you will too.