A few weeks ago I received an email from a co-worker that included a link to a short how-to video. This particular video demonstrated a way to adjust a vehicle's side- and rear-view mirrors so that the blind spot is reduced as much as possible.
If reducing your blind spot is a big concern of yours, you might find the video helpful, but if you're like me, you might have some concerns about the recommendation. Take a look:
Adjusting Side-View Mirrors to Reduce Blindspots
The tips provided in this video went against everything I had always done when adjusting my own vehicle's mirrors, so I went looking for answers from the experts. I shared the video with Tom Krause, West Bend's Fleet Manager for the last 20 years. Tom oversees a fleet of 130+ vehicles spread throughout the Midwestern United States.
This was Tom's response:
Adjusting your mirrors as instructed in the video can be an aid in minimizing blind spot instances. With that said, unless you are wearing a neck brace or cervical collar, I would strongly recommend always turning your head to confirm there is no obstruction - vehicle, motorcycle, bicycle, or pedestrian - in your blind spot.
Having the mirrors adjusted as in the video seems unnatural. I am accustomed to having mirrors on my truck or car adjusted for backing. Personally, I would feel uncomfortable not being able to see the sides of my vehicle backing into a garage or parking spot. Having the mirrors adjusted for blind spots would make it near impossible to back such a vehicle safely.
I was taught to never trust a mirror for seeing the inherent blind spot on a vehicle and to always turn your head and check over your shoulder. The days of having a panel van taught me to apply the convex mirrors on the outside mirror of at least the passenger side and typically the driver side mirror as well.
Many OEM mirrors on the vehicles today have a split lens to assist in blind spot viewing. Upper end models have sensors that also inform the driver of vehicles approaching in the blind spot. As with most options, eventually they work their way down to the standard models.
Adjusting Side-View Mirrors to Safely Back Up a Vehicle
The video above demonstrates one way to reduce the blindspots on a vehicle. It is important to recognize, however, that reducing a blindspot and eliminating a blindspot are two very different things. No matter what adjustments you make to your rear- and side-view mirrors, you'll have a difficult - if not impossible - time completely eliminating blindspots,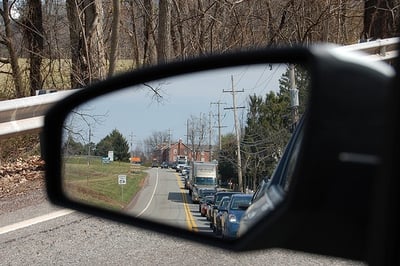 so you should always look over your shoulder before making lane changes.
Because a safe driver will always look over their shoulder no matter what, I think it makes sense to adjust your side-view mirrors to aid in safely backing the vehicle up. After all, even if your vehicle has a soon-to-be-mandated backup camera, you'll still need to know where the edges of your vehicle are. To make this simple adjustment all you need to do mimic this photo and set your mirrors so that you can see just the very edge of your vehicle.
How are Your Mirrors Adjusted?
We'd love to hear what you think of the video? Is this how you have your side-view mirrors adjusted? Or do you have your mirrors set up so that you can see the side of your car? Let us know which way you like things setup in the comments section below.