"This is a test of the Emergency Broadcast System."
Who hasn't heard that warning rattle through their radio? Or their TV?
We've all heard it at some point. But for people like me who almost never listen to the radio and prefer to skip through commercials by watching digitally recorded TV, you might struggle trying to remember the last time you heard or saw a legitimate storm warning or other notable emergency.
Fortunately for many people with newer phones, this problem ends later this month when every major wireless cellphone carrier and the federal government launches the Wireless Emergency Alerts (WEA) service. In a nutshell, CMAS-capable phones will be able to receive a brief text message alert whenever a threat exists in their immediate area. Because the service is location-based, it won't matter if you're a Californian visiting Wisconsin when a tornado warning hits Milwaukee... you'll get the warning.
In addition to weather alerts warning about things like tornadoes, tsunamis, wind storms and flash floods, the service will also publish AMBER alerts for missing children.
You might be wondering, "How do I sign up for the Wireless Emergency Alerts service!?" Good news, you don't have to do a thing. This warning system will be an opt-out service which means as soon as it goes live, you'll receive warnings.
How Will Wireless Emergency Alerts Work?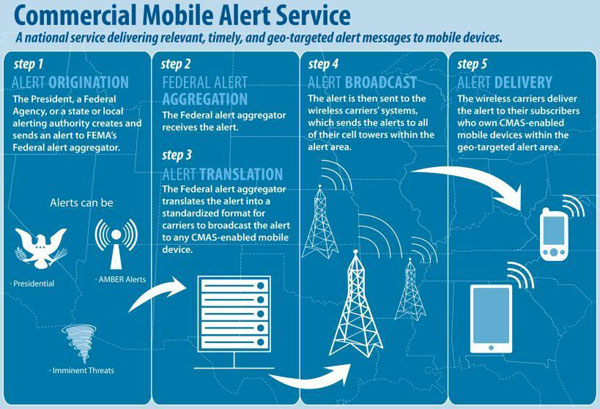 More Information From Wireless Carriers
If you have any more questions about the WEA, or won't to get information on CMAS-capable devices, you can visit the Frequently Asked Questions page on the CTIA website, or you can read more about it from your wireless carrier:
UPDATE: When we first published this post we incorrectly commented that "nearly anyone with a mobile phone would receive these updates". It has come to our attention that this is not the case, and that only people using newer phones will be able to receive weather alerts. The post has been updated to reflect this information.