In an age where our privacy is rapidly eroding, what do parents expect of their child care center or family child care provider about protecting their family's privacy?
Parents expect their child care program to keep confidential everything they know about their children and family.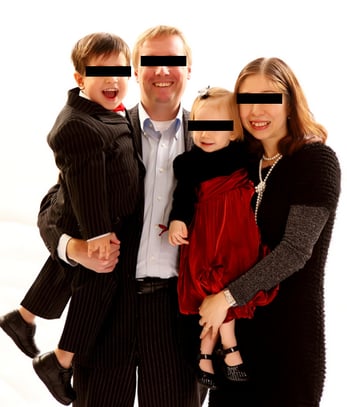 Parents may not say this directly, but that's what they want. It's what we all want for our own families.
How do issues of privacy arise in a child care setting? Consider the following situations:
You post a picture of a child in your program on the classroom wall or your refrigerator.
A parent asks for the mailing addresses of the other parents in your program so they can mail an invitation to a summer picnic.
You create a children's photo album of pictures you've taken throughout the year and give one to each parent as a Christmas present.
You post videos of the children in your program on YouTube.
In each situation the privacy of the children/family has been compromised.
Handling the High Expectations Parents Have for their Privacy
1. Follow your state's child care regulations regarding privacy.
Some states require child care programs to keep confidential all information about children except as requested by a governmental agency (i.e., child care licensing, police, child protection, etc.) or unless the parent gives written consent. Other state rules are silent on the topic of privacy. State child care rules more often detail what type of records you should maintain on the children in your care.
2. Establish a privacy policy for your program.
Whatever your state child care rules say, I strongly recommend that you create your own privacy policy. Your policy should start with the assumption that all child/parent information will be treated confidentially. It should indicate your obligation to follow state laws, and lastly promise not to release any information without parent permission.
Here's a brief example of a privacy policy:
The ABC Child Care Program is pledged to keep all information about your child and your family confidential. This means we will not release any information unless we are required to under state law or if you give us written permission to do so. State law mandates that we release certain information when requested by child care licensing, law enforcement agencies, child protection agencies, or government health officials.

We will also not release any information about your child/family on the Internet, without your written permission. This includes the posting of names, contact information, photographs, videos, audio of children or family members on our website, Facebook, Flickr, Twitter, Pinterest, YouTube, or any other location on the Internet. We will not share information through texting or sharing of photos on cell phones.
Many child care programs do follow common practices that involve sharing private information about children. To save yourself the time of having to seek out permission from each parent for each practice, it makes sense to include such common practices in your privacy policy and have parents give permission by signing your policy.
For example, your policy could include additional language like:
Here is a list of common practices our program follows. Please place your initial next to each practice that you consent to:

Posting of photographs of your child around our center/home.
Posting of first names of your child on his/her artwork and cubbie.
Use of a video surveillance camera in your child's classroom that will only be shared with staff (for training purposes) and with authorized authorities, when requested.
3. Monitor and Review Your Child Care Privacy Policy
Once you have a child care privacy policy in place, be alert to instances where privacy may be an issue. A parent wants to take pictures of her child with other children while visiting your program. Your own child posts the name of a child in your program on her Facebook page. During a parent interview the prospective parent asks for the name of a parent in your program as a reference. You take the children on a field trip and each child wears a nametag. In all of these situations you want written parent permission.
Review your privacy policy at least once a year with parents to make sure everyone understands what your policy means. Revise it as necessary. Your policy should evolve as new technologies create additional challenges to everyone's privacy.

About Tom Copeland
Tom Copeland is a licensed attorney in St. Paul, Minnesota who writes books, gives workshops and advocates for the business of child care. For additional information on privacy and other legal issues facing child care programs, visit his blog or email him at tomcopeland@live.com.