Every year around this time, West Bend's loss prevention representatives start preparing for dozens of summer camp counselor presentations. Last year, in fact, we presented to more than 1,250 summer and day camp counselors throughout May and June.
Because every single camp is unique, we've found that a single, pre-prepared presentation or video simply won't cut it. Discussing incident reporting to an experienced staff of counselors, for example, is going to be different than a similar discussion with first-time counselors. And what might seem like an important topic to one camp isn't going to be relevant for another. For these reasons, we always work one-on-one with our summer camp customers to identify the specific topics that are most relevant to them.
I thought it might be interesting to run a report for all of you to see what summer camps - at least the summer camps that we work with - are concerned about in 2012. Here is the data from that report:
Summer Camp Counselor Training Requests in 2012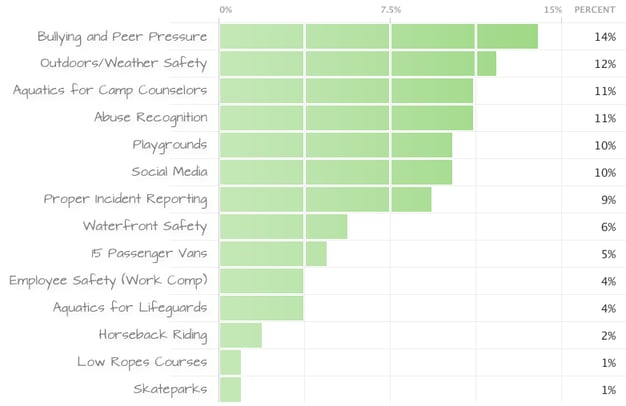 After looking over this information I think it's interesting how much overlap there is between the concerns that camps have and the concerns most parents sending kids to camp have. Does this information surprise you at all? Let us know in the comments section below.
Here is more information on some of the topics listed above for those organizations we don't have an opportunity to work with.
Bullying and Peer Pressure
There is no question that bullying and cyber-bullying are increasingly hot topics for anyone that works or lives with kids. But even as hugely popular anti-bullying initiatives like It Gets Better, and the full-length documentary, Bully, connect with today's youth, we still hear things like, "Kids need to toughen up! Bullies only use their words. No one actually gets hurt." As long as people cling to these fallacies we'll continue to show this video of Casey Heynes, a young boy that had had enough of bullies picking on him. Regardless of whether or not a child fights back, someone is always getting hurt.
We think summer camp counselors (and really anyone working with kids) are in a perfect position to identify and prevent bullying. The same is true for dangerous activities kids engage in as the result of peer pressure. The Choking Game is a perfect example of this. Counselors can protect campers by being informed and having open conversations about these dangerous games.
Outdoors and Weather Safety
The impact that weather and nature can have on summer camp safety really depends on the types of activities of each specific camp. Day camps that operate out of a building, for example, are less susceptible to trouble caused by major, unexpected storms.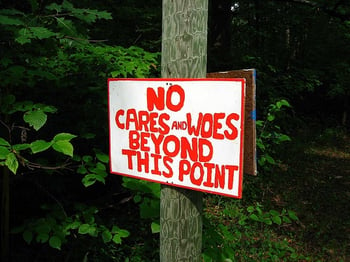 On the other hand, a program like Camp Widjiwagan in Ely, Minnesota that sends teenagers on 40+ day canoe trips to Alaska is going to have huge exposure to extreme weather.
In addition to preparing for lightning, heat exhaustion, and disaster preparation in general, camps will also want to prepare for other outdoor-related exposures like bed bugs and ticks that carry Lyme Disease.
Aquatics for Camp Counselors
This training might be one of the most important for camps. Camp directors often place a lot of emphasis on properly training lifeguards, and they absolutely should, but it seems that aquatics training for camp counselors is rarely discussed. This is a big problem.
In any swimming situation we recommend that a supervising adult be present depending on the swimmer's age. (Our recommendations for child supervision in pools can be found in our Aquatics Best Practices Guide.) At camp a camp counselor is a child's adult supervision. This means they need to be trained in the most effective ways to supervise children in the water and how to communicate effectively with the lifeguarding staff.
We have always started this training session by playing the footage from Yoni Gottesman's drowning. While shocking, the video effectively shows just how important a camp counselor is in promoting aquatic safety. Some of the most important responsibilities of a counselor include:
Letting lifeguards do their jobs. Lifeguards have their hands full; a counselor should never be a distraction.
Sharing important information about the campers. No one knows campers better than their own counselors. Counselors should inform lifeguards about any camper that isn't a strong swimmer, might be tired from earlier activities, or is a little under the weather and may not be in tip-top shape.
Getting in a good position to supervise. Supervising several young swimmers is not easy. Counselors can do a better job, however, simply by positioning themselves in a beneficial location. Sometimes being in the water isn't going to be the best supervising angle.
Encouraging safe swimming and promote the buddy system. A counselor should always be the voice of reason. Counselors must set a good example and should never engage in horseplay.
What Safety Issues Are You Most Concerned About?
Regardless of whether you are a camp director, camp counselor, or a parent we'd like to know what your biggest summer camp safety concerns are. Let us know in the comment section below.