The National Highway Safety Traffic Administration (NHSTA) has plans to announce a significant new piece of legislation which would require automobile manufacturers to install rear-facing cameras in all new passenger vehicles. According to The New York Times, the goal is to have this requirement in place by 2014.
I can speak from experience that rearview cameras are incredibly helpful for preventing minor parking lot fender benders. And, believe me, you'll never want to hitch another trailer without one.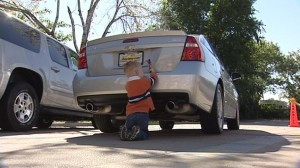 This legislation, however, isn't being passed for such mundane reasons. This new regulation, which could tack on an additional $160-200 per vehicle, will dramatically reduce the number of people injured by a vehicle backing over them.
Believe it or not, more than 200 people are killed (and an additional 8,300 injured) every single year by a vehicle backing over them. To make matters worse, 44% of fatalities are children under age 5, and more than 66% of the time a child's parent or other close relative was driving the vehicle.
This new regulation still must pass through Congress, and may take several more years to become fully implemented, so please always take time to ensure there aren't unsuspecting victims behind your vehicle when you are reversing.
Spot the Tot: Deadly Blind Spots
Please take a moment to watch this Spot the Tot demonstration. You'll be amazed at just how much you can't see.