A few days ago while my wife and I were driving from Chicago to Madison, we witnessed a frightening situation that more than one million Americans will experience each year… a deer strike. I know that between hunting season, Thanksgiving, and holiday shopping, the roads are extra busy this time of year so it is important to be extra alert for deer. I had also always been under the impression that you need to mainly watch out for deer crossing the road at night, but this past weekend I learned that deer strikes can occur anywhere at anytime.
It was about 2pm when we began to exit toward Madison and the roads were very busy. While driving on the interstate, my wife pointed out that there were three deer crossing the road less than 100 yards in front of us. There were only two cars, in the right and left lane, between our car and the deer. The cars ahead of us were going approximately the same speed we were which was about 70 MPH.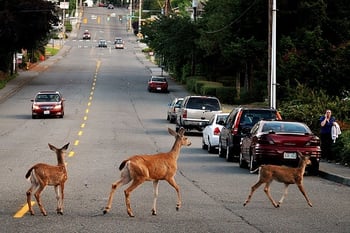 The deer had cleared the left lane, but were still in the right lane when the car, a pickup truck, hit one. The truck had been unable to slow down completely, but did apply the brakes and made the right decision to hit the deer head on. If the driver of the pickup truck had swerved he would have driven off the road or slammed into the car next to him, and if he slammed on the brakes, we, or any of the cars behind us, would have rear ended him.
As we drove past the pickup truck we observed that the front end was quite dented, but the car was still drivable and was safely pulled off to the side of the road. Traffic resumed with no crashes or injuries.
As a lifelong Wisconsin resident, I have always been told that if a deer is in front of you in the road you should slow down and hit it instead of swerving. After this situation I fully understand why. Neither my wife nor I have ever hit a deer, but we both always wondered if we would be able to fight our instincts to swerve if the situation ever arose. After witnessing this accident we both know now that a deer can appear anywhere at any moment, and that the safest way to protect yourself and others around you is to slow down as safely as you can and hit the deer head on.
We have a poll embedded on a Safety Alert I wrote last month about deer versus car collisions. Right now, more than 75% of respondents have said they've been in a vehicle that has collided with a deer. Thanks to the pickup truck driver's quick response, I can still say I haven't been in a deer-related auto accident.
About the Author
As a Loss Prevention Analyst with West Bend Mutual Insurance Company's specialty lines division, Mike Winterle analyzes claim trends experienced by West Bend customers. His experience reviewing thousands of claims each month provides him with a unique view of everyday activities like driving. He's confident that he has read about "every kind of accident imaginable." As Mike discovers new and dangerous trends he prepares materials, like the Safety Alerts here on Culture of Safety, in order to help other organizations avoid them.