As we've stated time after time, we feel strongly that online contact with minors should be extremely limited. As someone that does online marketing and social networking for a living, I understand better than most how these social media restrictions can be frustrating for youth-focused organizations like summer camps, youth sports programs, Boys & Girls Clubs, and schools. The interactive communication between activity programmers and children can be an incredible outreach tool, but the fact of the matter is there is just too much that can go wrong.
You can read our entire Social Media Best Practices Guide, but in a nutshell, our recommendation is that any communication with a minor should be done 100% in public view. And because the popular social networks (Facebook and Twitter) have traditionally not offered a great way to prevent private communication, West Bend has promoted the idea that adults should just not connect with minors that aren't family members.
With the launch of the Facebook Subscribe Button, this restrictive recommendation may now have an asterisk after it.
What is the Facebook Subscribe Button?
Most people use Facebook to connect with the people they know well: classmates, co-workers, family, and friends. The average user chooses to have their photos, videos, status updates, and profile information only visible to this select group of people... meaning the general public only sees the most basic contact information.
In the past, this meant that if someone wanted to interact with you and the things you share, they would have to send a request to become Facebook Friends, and you would then have to approve of that connection.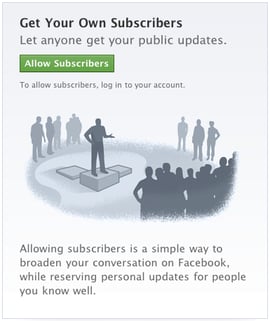 Once this connection was approved both users could communicate publicly or privately with one another.
This process of sending and accepting Facebook Friend Requests has been in place since the very beginning, and it's worked relatively well for most people. Unfortunately, it doesn't address those people who have an interest in sharing their photos and messages with a broader audience. Enter Facebook Subscribe.
As the official Facebook graphic to the right explains, allowing people to subscribe to your updates is a "way to broaden your conversation on Facebook, while reserving personal updates for people you know well."
When you subscribe to somebody on Facebook the only thing you see is information that a person is willing to share publicly. For example, you can subscribe to Mark Zuckerberg (the founder and CEO of Facebook). When you do this the only thing you see are status updates and photos that he has hand-picked to share with the world. When he posts more personal content he'd only like to share with his close family and friends he changes who that information is shared with, and the millions of subscribers he has won't see a thing.
I think this could be a great alternative for someone interested in connecting with minors in a safe and appropriate manner.
Why is Facebook Subscribe a Safe Alternative for Interacting with Kids?
In the past, our issues with an employee of a youth-focused organization communicating with minors was the fact that most contact online isn't public... at least not by default. If a summer camp counselor and a camper became Facebook friends then some of their communication would be completely private (Facebook messages) and the other communication would only be visible to their friends (status updates and comments on the Facebook Wall).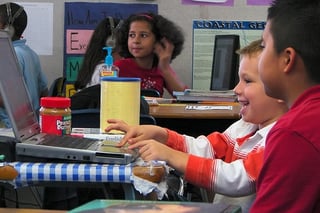 The beauty of Facebook Subscribe is that ALL of the contact between a user and their subscriber is public.
If a school teacher were to publish a photo publicly on their Facebook page then one of their students could "Like" it or comment on it. This interaction between the two would be out there for the entire world to see - including the child's parents and even school administrators. And if that same teacher began sharing public content deemed inappropriate, everyone else would be able to see that too. These people could then raise their concerns with the teacher directly or the appropriate school administrators. It's built-in checks and balances.
Facebook's new subscription service isn't perfect, but it is the best option I've seen for interacting in a safe and responsible way with minors online. Agree? Disagree? Chime in in the comments section below.