Brand new data was just released about the number of deer versus car collisions.
First, the good news: deer versus car collisions are reportedly down for the third straight year. Now the bad news: there are still more than 1,000,000+ reported collisions every single year, and if you live and drive in the Midwest, your odds of hitting a deer while driving might be as high as 1 in 77.
Deer Collision Hotspots
Take a look at this map that was just published by the Wall Street Journal; the entire Midwest is a deer collision hotspot. The darker the shade of red, the higher chance that a driver will hit a deer in any given year.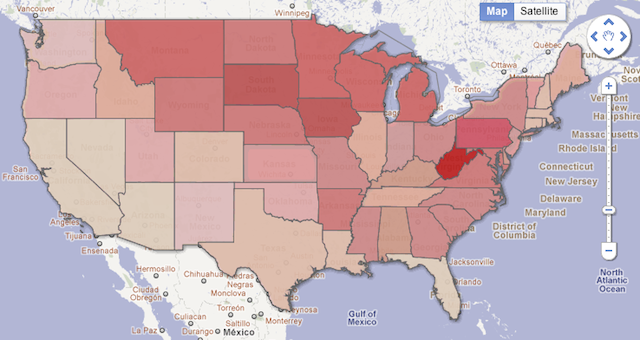 Deer vs. Car Collision Prevention Management
As long as we continue to develop the land that these animals rely on it is hard to imagine that these collisions will ever really slow down. Because of this, this is one of the few instances you'll find on Culture Of Safety where we preach the importance of accident management, rather than accident prevention. We're not going to dramatically reduce the number of deer, and the number of drivers isn't about to drop, so our only hope is to ensure that the 175-200 fatalities caused by these collisions each year don't happen.
Collisions with deer can happen any time of year, but they are most likely to occur in October, November, and December. Make sure you drive with extra caution during these months, and always use your high beams whenever possible.
If you have even the slightest doubt about what actions should be taken when faced with a potential deer collision, I highly recommend you read our safety alert on What to Do in a Deer Versus Car Collision... and make sure you use the interactive poll to indicate if you've ever been in a deer vs. car collision.