Third-Party Certification Orgs
Summer camps and other youth-focused organizations work closely with several reputable organizations to help with certification and training. The American Red Cross, for example, has trained thousands of waterfront lifeguards, the American Camp Association works closely with summer camps across the country, and the YMCA of USA is an excellent resource for additional training for Y-affiliated camps.
We continue our four-part blog series, Developing a Culture of Safety at Camp, with another excerpt from an interview with Su Rider, the equestrian coordinator at Wesley Woods Camp in Indianola, Iowa.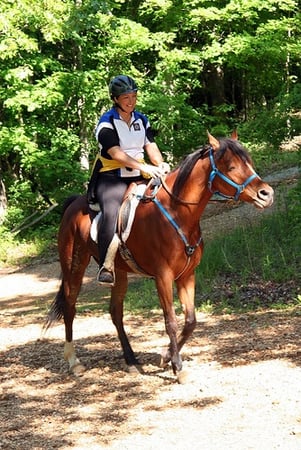 If you haven't already, check out the first part of this interview in Developing a Culture of Safety at Camp - Part 1. In Part #2, Su talks about some of the orgs that she works with.
As the manager of a relatively large staff, why have you chosen to endorse AAHS and NARHA? I have to imagine there are dozens of equine-specific organizations that certify instructors.

The president of American Association for Horsemanship Safety (AAHS) is an attorney who makes her living as an expert witness testifying in court cases about equine liability and negligence. She is also an accomplished horseman. AAHS bases every decision related to safety and riding on legal liability and case law. In other words, instructors are encouraged to ask themselves if their decisions are defensible in court. The methods and philosophy AAHS promotes really help weed out the cowboys and backyard horse owners who would call themselves riding instructors. There is no room for people who think they are accident-proof because of their years of experience. AAHS does a wonderful job of recognizing individuals who would risk safety in the name of "fun", or those who simply don't take the time to think through their decisions. Another reason I like AAHS is because it offers my summer equine staff, who often don't have many years, a detailed and specific way of teaching riding. AAHS teaches them how to teach.

I am also a registered instructor with North American Riding for the Handicapped Association (NARHA). When I was hired, Wesley Woods had been doing therapeutic riding for a few years, but nobody had formal training or certification. I felt this put the camp and our riders at risk, so I pursued certification. NARHA is by far the best known organization of their kind in the nation, and possibly in the world.
Lesson #2
Third-party certification organizations are a great start.
We highly encourage you and your organization to continue to develop these important relationships with third-party training and certification orgs like the ACA, but as Su points out, internal training and development is essential.
The reason camp-specific training is important is because these larger, national organizations are often forced to focus on much broader skills. When American Red Cross lifeguards are in training, for example, they are taught specific lifesaving skills, but only generic procedures for guard rotations, scanning, and activating an EAP. These important details are highly specific to each pool, and it is unreasonable to expect the Red Cross to cover every possible configuration. Third-party organizations give you a great head start on training, but it is your responsibility to build on the basics and make the skills employees learn relevant to your unique exposures.