Ten months ago I bought my first home. In that time I've been busy painting, landscaping, and even replacing the home's original windows. Until last week, I had been feeling pretty good about my first go at this whole home ownership thing.
That is, until I came home from dinner on a Saturday evening and forgot to close the garage door. Temperatures dropped well below freezing that night. Predictably, I woke up to frozen pipes. After about 20 minutes of thawing everything out with space heaters and blow dryers, I had water flowing through the pipes again.
Unfortunately, I wasn't out of the woods just yet. One of the frozen pipes in the garage burst under the pressure and water was spewing all over one of the cars.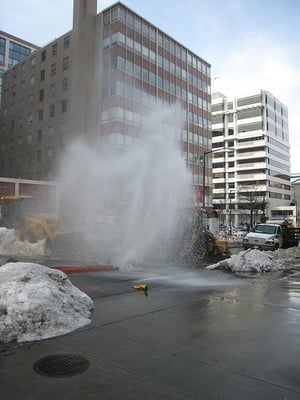 I was frantic. Where is the water shut-off!?
I'm embarrased to tell you it took me more than 10 minutes to find the shut-off valve. Luckily, the pipe burst in my unfinished garage and not a main living space. The pipe was replaced with relatively little headache, and I'm happy to report no major damage was sustained. But it could have been so much worse.
Lessons Learned
As I mentioned, the damage my home sustained was minimal, but if the pipe had burst somewhere else in the home or - even worse - at your place of business, we could be talking about hundreds or thousands of dollars worth of damage.
1. Know where the water shut-off valve is.
In hindsight, this seems obvious, but I had a lot of other things on my mind. I'm guessing many of you do as well. Your organization is big and complex, and details like water shut-off valves can easily slip through the cracks.
If you don't know where the water shut-off is at your place of business, stop reading this blog post immediately and go find it. If you do know where the water shut-off is, stop reading this blog post immediately and make sure other people know where it is too. There is always the possibility that you won't be around to shut the water off, so it is important that other trustworthy employees know what to do.
2. Make sure you have access to the water shut-off valve.
Knowing where to find the water shut-off valve is not enough. You need to be able to get to it. In my case, I had a hard time finding it because it was surrounded by boxes and tools. Access to the shut-off valve should be open and obvious.
I'm willing to bet money that many community organizations and businesses open to the public have water shut-off valves located behind locked doors. If locking these doors off to members is absolutely necessary, make sure enough employees know where to find the keys to unlock the door.
3. Know who to contact when something goes wrong.
Even though damage was minimal, I had a plumber and my independent insurance agent on the phone almost immediately. For a business, especially one that works with children and families, a much longer list of contacts is going to be necessary.
Ask yourself the following questions. You should know the answer immediately.
Who is my insurance carrier and agent, and how do I contact them? (West Bend customers: get more information about reporting a claim)
How do I let members know that there is a problem at the facility?
If children are at the facility, how do we contact their parents quickly and efficiently?
4. Minimize damage by opening a main drain.
Water continued to flow through the burst pipe even after I shut off the main water supply. By turning on a faucet closer to the main water supply I was able to divert as much of the remaining water as possible into a drain rather than on my garage floor.
In a commercial setting, you can open the main drain that is typically located right next to the shut-off valve. Doing so gives you more control over where the remaining water in the system is diverted. Make sure you turn off the main water supply first though!
5. Ensure you have adequate insulation.
Even though the pipes in my garage are insulated, they stood very little chance to the frigid cold with the garage door open all night. Always make sure doors and other openings are closed during the winter months.
You should also ensure that the insulation along the outside areas of the building (ie. the attic) is sufficient. Insulation has the tendency to settle over time, which can reduce its effectiveness at combatting the elements.
Have you ever had to rush to shut off the main water supply to your home or business? Did you get to it in time?