One child drowns every minute. Yes, you read that correctly. One child drowns every minute. 600,000 children a year.
My 9-year-old son asked me the other day how many kids drown, and when I told him one every minute he asked, "Then why isn't everyone talking about it?" Good point. If a 9-year-old gets it immediately, why doesn't everyone?
So let's get people talking. How?
Ask Oprah
Ask Oprah to dedicate a show to childhood drowning. Join us in sending official requests to her by February 14. "Us" includes everyone from the Australian Surf Life Savers to a bunch of Navy SEALs. We hail from a range of countries from Argentina to New Zealand.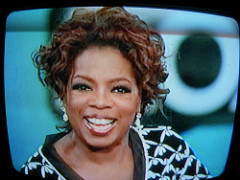 We're olympic swimmers, swim schools, Channel Swimmers. We're doctors, aquatics professionals, concerned parents and devoted grandparents. Join us to save kids' lives.
I know it's a tight deadline, but community organizations can help in a number of ways. You can:
Share a link on an official Facebook page
Tweet about it
Hand out a card with the link to all of the parents in swim classes
E-mail blast a mailing list
We truly are getting an international response and as one of the most respected and long-standing of American institutions, having a 'shout out' from the swim clubs and their patrons would be a huge help. Most people act within 24-hours of getting an electronic request, so let's make this last week really count!
Simply click on this link to ask Oprah to showcase this issue:
https://www.oprah.com/ownshow/plug_form.html?plug_id=216
My Submission
Here's what I submitted (stats from www.ilsf.org and other sources), but feel free to put your own perspective in there:
One child drowns every minute across the globe. 600,000 children per year. An estimated 3-4 children almost drown every minute and are permanently impaired.
Drowning is as serious a threat to childhood mortality as many diseases, and it is entirely preventable. I believe we need a global strategy to address the issue and local solutions to address cultural and geographic differences. I believe that the joy of water needs to be recognized and embraced, and that children must be taught a positive and safe relationship with water from infancy if drowning rates are to drop. We need to change how we relate to the water, permanently.
Thank you for considering putting childhood drowning as a subject of a show - I know of no one but Oprah who could make such an immediate impact on an issue which affects all of us. Too much has been fear and guilt and the statistics haven't changed - we need to bring empowerment and joy and positive change if we want our children to be safe.
This was a guest blog from Rebecca Robinson. Take a look at her previous posts.