It has been a treacherous month for West Bend employees on Wisconsin roadways. Less than three weeks ago, Jenn Siedler, a senior attorney, witnessed a vehicle rollover involving a mother and two small children.
This past Thursday, I witnessed a high-speed collision between an SUV and motorhome that left both vehicles completely engulfed in flames. Here is the SUV less than 10 minutes after the collision.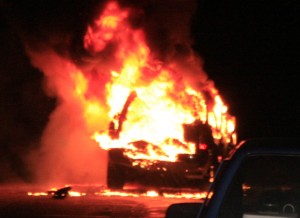 As one of the first people at the scene, I had an opportunity to find out what happened and make sure everyone was okay. The driver of the motorhome explained that he was having mechanical issues with the vehicle, so he was driving significantly under the speed limit on the right side emergency pullover lane.
It appears that the driver of the SUV didn't see this, and slammed full speed into the back of the RV. It's fortunate that no one was in the rear of the motorhome or passenger seat of the SUV, because they likely would have been very seriously injured.
Lessons Learned
Jenn was left with a sobering reminder of just how important seat belts and proper car seats are in vehicle rollovers. While I'm sure that seatbelts played an important role in keeping everyone unscathed on Thursday, I walked away from my experience with different insight.
1. Never drive a vehicle in need of repair.
As mentioned before, the driver of the motorhome indicated that he was having mechanical problems. While I don't know all of the details, my best guess is that he probably should have had the vehicle towed. If a vehicle isn't capable of driving safe speeds in a controlled manner, have it towed. Your organizations' drivers should be trained to always pull a faulty vehicle safely to the side of the road. A driver should never put themselves, or their passengers, in compromising situations.
2. Never take your eyes off of the road.
I don't know why the driver of the SUV didn't see the motorhome in time to stop. It's possible that the motorhome didn't have its lights on. But it's also possible that the driver of the SUV was text messaging or preoccupied in some other way. Regardless of the circumstances, this collision is proof that tragedy can strike in a matter of milliseconds. Never ever take your eyes off of the road. If you absolutely must make a phone call, send a text message, or eat... pull over!
3. Be prepared for anything.
I did not have a fire extinguisher, first-aid kit, or road flares in my vehicle. Basically, I was completely unprepared for a serious auto accident. Fortunately, no one was seriously injured. But if someone had been trapped in either of the vehicles, I would have been forced to witness the flames completely engulf them. Every vehicle should be stocked with essential first-aid supplies and safety gear, including items like blankets, water, etc.
4. Know where you are.
I was able to contact 911 only seconds after the collision. With the help of a GPS, I was able to give the 911 operator precise location coordinates. Police officers, paramedics, and firefighters were on the scene in a matter of minutes, but if I didn't have a GPS, I'm not sure I would have been able to provide accurate information.
This may seem like obvious advice, but always know where you are. Anytime you drive, but especially on long trips through remote areas, it's important to know how far you are between exits or rest areas.
5. Wear your seatbelt.
I'm assuming the collision on Thursday night occurred at speeds in excess of 65 miles per hour. If either of the drivers hadn't been wearing their seat belts, it is extremely likely that they would have been ejected from their vehicles. If you know a driver that refuses to wear a seat belt, show them this video clip of the Rollover Convincer; it usually does the trick.